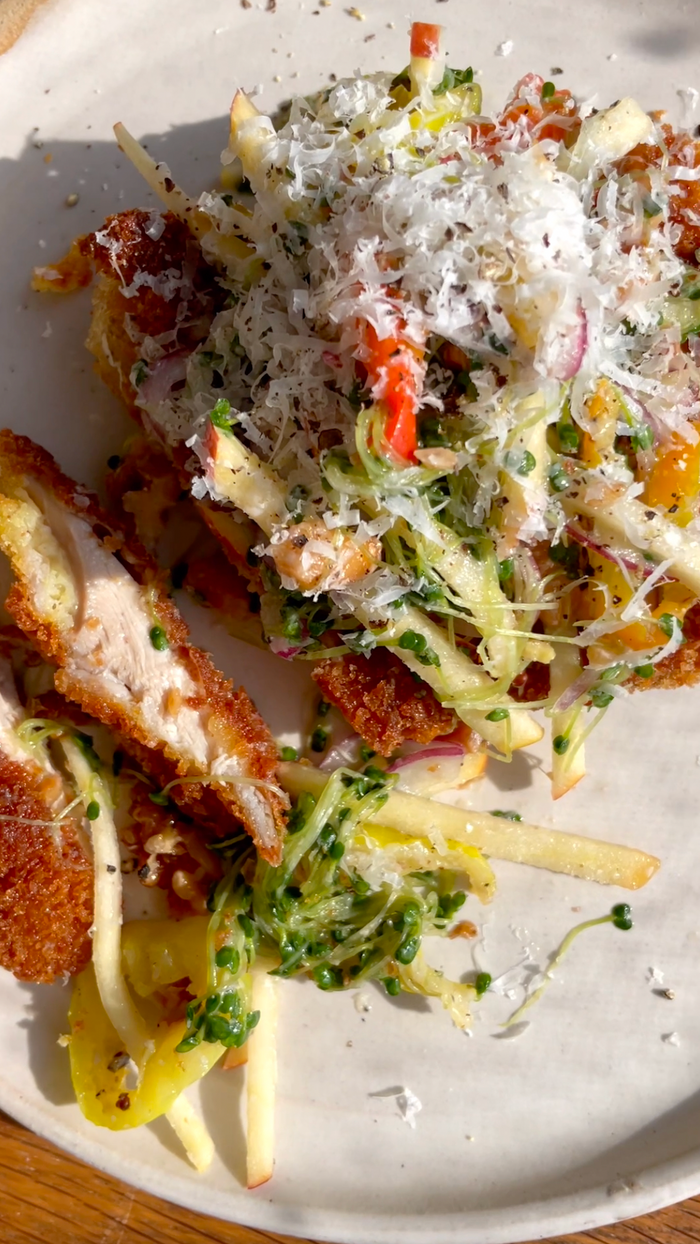 Yield: Serves 4-6
Time: 40 minutes
INGREDIENTS: 
For the Chicken
1 1/2 pounds boneless, skinless chicken thighs (about 4-6 medium thighs), pounded thin
Kosher salt
Freshly ground black pepper
1/2 cup all purpose flour
2 large eggs, whisked
1 1/4 cups Panko breadcrumbs
Vegetable or neutral oil, for frying

For the Slaw
5 ounces (about 1 harvest) fresh broccoli sprouts
1 medium apple, sliced into matchsticks
1/4 medium red onion, thinly sliced (preferably on a mandolin)
1/2 cup pickled peppers (sweet or hot or a combo), plus 3 tablespoons pickling liquid
1/2 cup freshly grated Parmesan cheese, plus more for serving
1/3 cup toasted walnuts, coarsely chopped
2 tablespoons olive oil
Kosher salt, to taste
Freshly ground black pepper, to taste
INSTRUCTIONS 
Arrange the chicken on a plate or sheet pan and sprinkle both sides with salt and pepper.
In 3 shallow bowls, add flour to the first, eggs to the second, and Panko to the third. Dredge each piece of chicken in the flour, tapping off any excess, then the egg, then the panko, making sure the entire piece of chicken is covered with breadcrumbs. Keep refrigerated until ready to cook.
Make the slaw. Combine all ingredients in a large bowl and season to taste with salt and pepper. Keep refrigerated until serving.
Line a baking sheet with paper towels. In a large cast iron skillet, heat 1/2 inch of oil over medium high heat. Once barely smoking (add a pinch of panko—if it sizzles, then the oil is ready to go), lay the breaded chicken cutlets down and cook until golden brown and crispy, 4-5 minutes per side. Transfer with tongs to paper towel lined sheet and sprinkle with salt immediately.
Arrange cutlets on a plate and top with slaw, more grated Parmesan, and a couple cranks of pepper. Serve immediately.