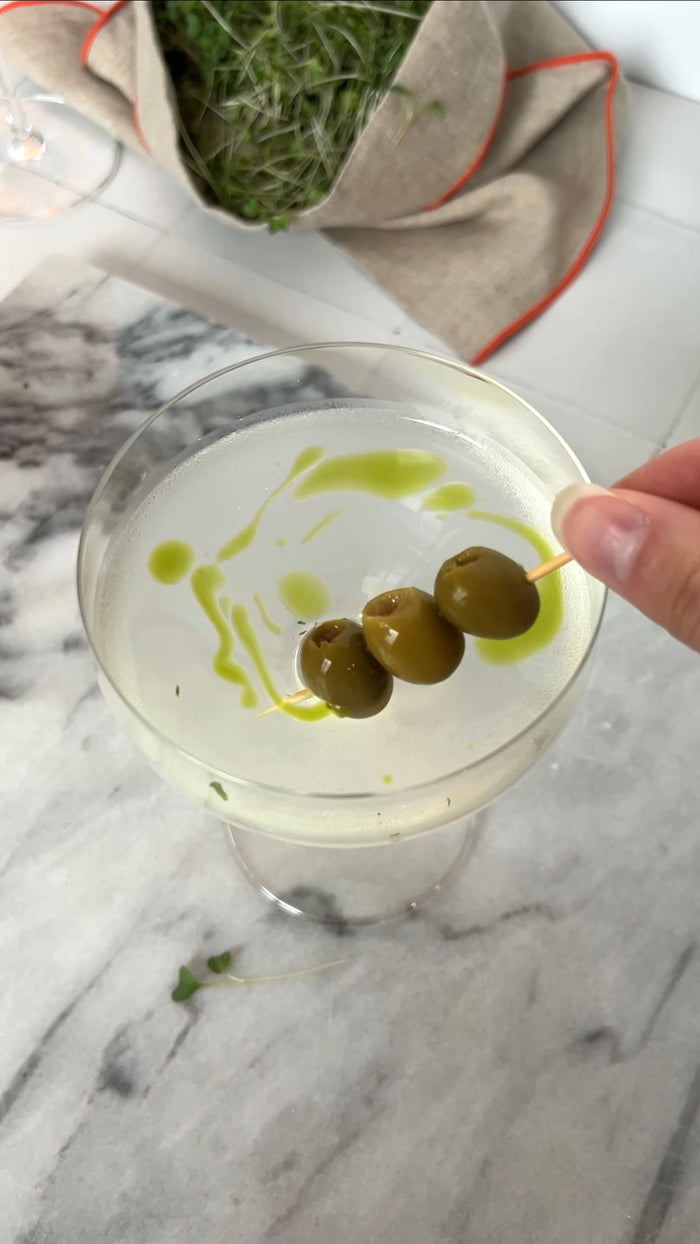 Yield: 2 martinis
Time: 20 minutes
INGREDIENTS:
Broccoli Microgreen Oil
2 cups broccoli microgreens (1 full Fieldhouse grow tray) 

¾ cup to 1 cup extra-virgin olive oil (¾ cup oil for a more concentrated flavor) 

1 tsp salt
Gin Martini
¼ cup broccoli microgreens 

4 oz. gin 

2 oz. dry vermouth 

1 tsp olive brine 

6 olives, for garnish 

Broccoli Microgreen Oil, for garnish
INSTRUCTIONS:
Make the Broccoli Microgreen Oil
Bring a medium pot of water to a boil over medium-high heat. Add 1 tsp salt to the water. Meanwhile, prepare an ice bath: fill a large bowl with water and ice.  

Once water is boiling, add the microgreens and cook for about 5-10 seconds, just until the greens turn a brighter green. (Overcooking will result in loss of flavor so be sure to count the seconds!)

Use a slotted spoon or spider to quickly transfer the greens into the ice bath. This stops the cooking process and allows the greens to retain the bright color. Let sit in the ice bath for a few minutes to cool completely. Drain the water and use your hands to gently squeeze as much water out of the greens as you can. 

Transfer the greens to a high speed blender and pour in the oil. Blend until completely smooth, about 2 minutes. 

Pour the oil through a cheesecloth, coffee filter, or ultra-thin mesh sieve to strain into a cup or bowl. Allow the oil to strain naturally, without forcing it down. Once strained, transfer to a squeeze bottle and keep in the fridge for up to 6 weeks. 
Make the Martini
Add broccoli greens to a cocktail shaker and use a muddler to gently press down and lightly bruise the greens. This will allow the microgreens to release their natural oils. 

To the cocktail shaker, add ice, gin, vermouth, and olive brine. Cover and shake vigorously until well chilled. Pour into two coupes and top with several drops of Broccoli Microgreen Oil. Garnish with a skewer of 3 olives each. Cheers!