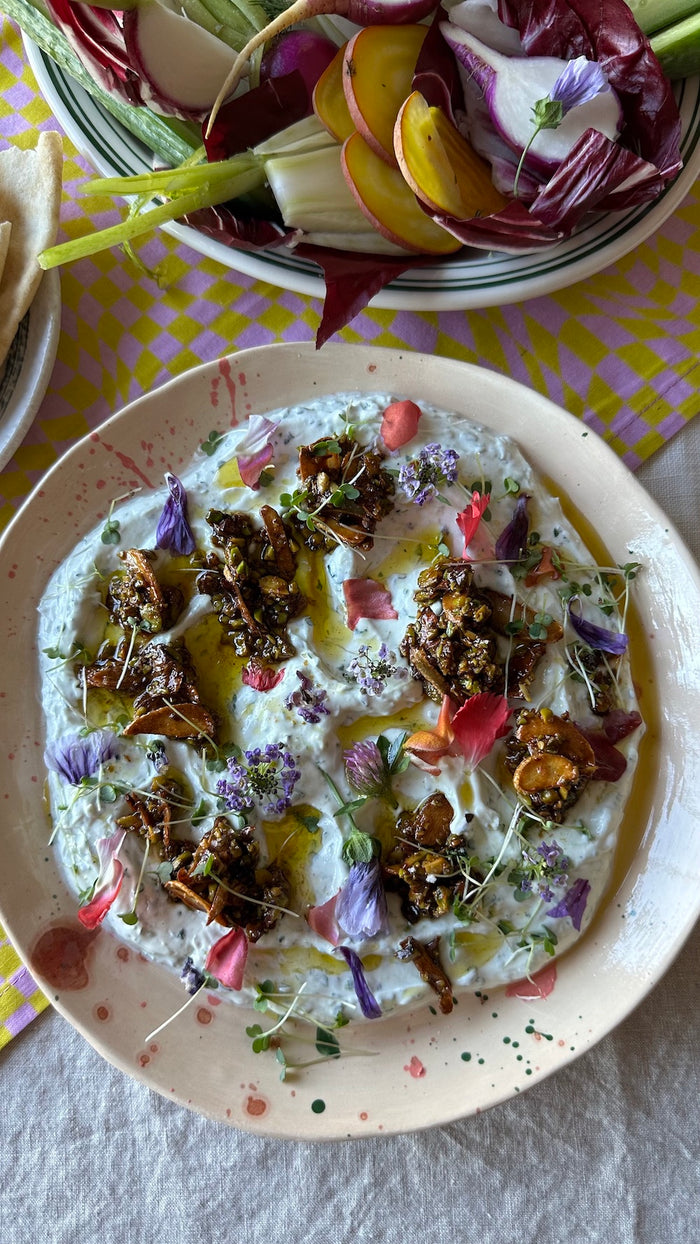 Yield: serves 2
Time: 20 minutes
INGREDIENTS:
1 cup arugula microgreens, plus more to garnish
1 cup labneh
2 Tbsp olive oil, plus more to finish
2 cloves garlic, thinly sliced
1/4 tsp red pepper flakes
2 Tbsp finely chopped pistachios
1 Tbsp honey
flaky salt, to taste
INSTRUCTIONS:
Blend or finely chop the arugula microgreens with a pinch of salt until it forms a paste.
Add the labneh and microgreens to a bowl, mix until combined.
Transfer the labneh to a serving dish. Use the back of a tablespoon to create swoops on the surface.
Heat the olive oil in a small sauté pan over medium heat. Add the garlic, red pepper flakes, pistachios, and honey with a pinch of salt. Stir until the garlic is golden and the pistachios & honey caramelize to form crunchy clusters (similar to granola texture wise), about 3-4 minutes. Be careful not to burn.
Spoon the crunchy garlic topping with any reserve olive oil onto the labneh. Add an additional drizzle of olive oil if desired.
Season again with a pinch of salt and garnish with a handful of arugula microgreens to finish.
Enjoy with pita bread and crudités.