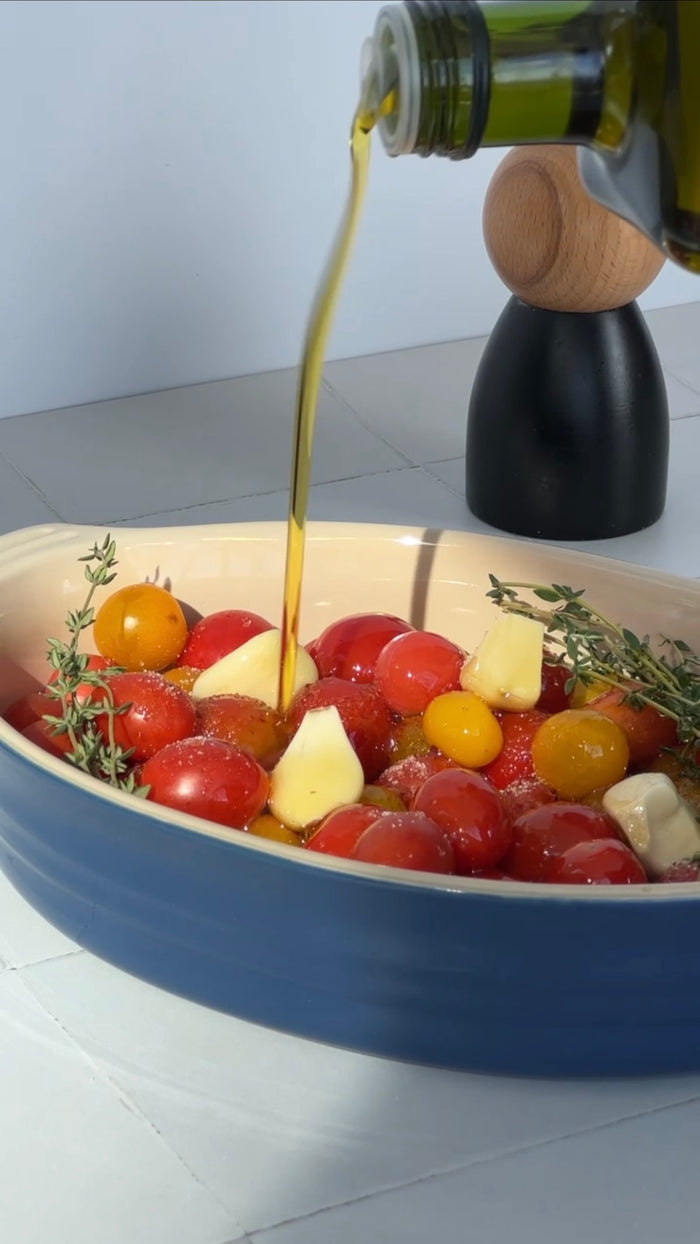 Yield: 4 toasts
Time: 30 minutes hands-on (2hrs30 hands-off)
INGREDIENTS: 
For the Tomato Confit
2 ½ cups cherry tomatoes
4 cloves garlic, peeled but left whole 
5 sprigs fresh thyme
2 tsp sugar
2 tsp salt
1 tsp black pepper
¾ cups extra virgin olive oil + more for drizzling
Optional: 1 tsp red pepper flakes
Remaining Ingredients
4 slices sourdough bread, toasted 

1 16oz. package full-fat ricotta

1 tbsp olive oil 

1 tsp salt 

1 cup broccoli microgreens (about ½ Fieldhouse grow tray)
INSTRUCTIONS:
Preheat the oven to 250F. 

Place cherry tomatoes in a single layer in a medium baking dish (about 9x13) and nestle the garlic cloves in between. Sprinkle in the sugar, salt and pepper, and red pepper flakes (if using), and tuck fresh thyme sprigs into the dish. Pour the olive oil over the tomatoes until they are about ¾ of the way covered.

Bake, uncovered, for 1 ½ - 2 hours, until the tomatoes are blistered and soft but not yet burst. Set aside to cool before serving. 

Meanwhile, whip the ricotta: Add ricotta, 1 tsp olive oil, and 1 tsp salt to a large bowl and use a hand-mixer or electric whisk to whip until light, fluffy, and slightly foamy, about 2 minutes. 

Pipe or spread the ricotta on toasted sourdough, then top each toast with ½ cup broccoli microgreens and desired amount of tomato confit. Serve immediately.
NOTE: The tomato confit will keep in the fridge for up to two weeks. To store, place in an air tight container and ensure the tomatoes are submerged under oil.