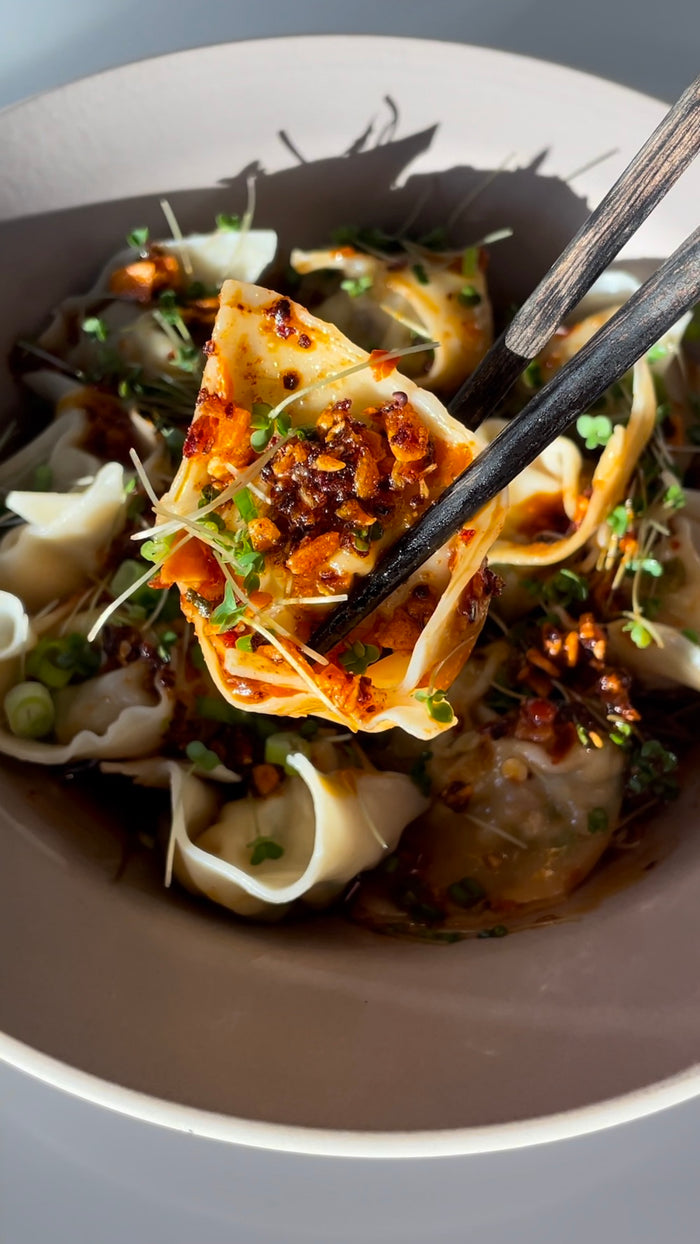 Yield: serves 5-6 or 75-80 wontons
Time: 45 minutes
INGREDIENTS:
Shrimp Wontons
1 lb shrimp, peeled and deveined (we use 20-25 ct. size), diced medium
1 Tbsp garlic, minced
1 Tbsp fresh ginger, minced
1 cup shiitake mushrooms, rough chopped
5 oz water chestnuts, diced medium
1 egg
2 Tbsp cornstarch
1 cup broccoli microgreens (about ¼ Fieldhouse grow tray)
1 Tbsp sesame oil
1 tsp salt
1-2 packets wonton wrappers
1 egg, whisked + 2 tsp water
Dipping Sauce
⅓ cup soy sauce
¼ cup rice vinegar
2 Tbsp hot sauce/sriracha
1 Tbsp sesame oil
½ Tbsp fresh ginger, minced
½ Tbsp garlic, minced
Garnish: more microgreens, diced scallions or cilantro, chili crisp
INSTRUCTIONS:
Make the filling
To start the filling, fine dice the garlic and ginger, medium dice the shrimp (peeled and deveined) and water chestnuts, and rough chop the mushrooms.
In a small bowl, beat the egg. Combine wonton filling ingredients in medium bowl and add the egg, cornstarch, salt, and broccoli microgreens and combine ingredients.
Add 1 Tbsp of cold water to the remaining beaten egg and set aside. Take a wonton skin and wet two consecutive edges with the beaten egg and water. Add about 1 Tbsp of the wonton filling in the middle of the skin. Make a triangle by bringing opposite corners together (wet edges to dry edges), and press the edges being careful to remove any air bubbles. Place wonton on a parchment lined tray without touching each other. You may not use all the wonton skins. 
Bring a large pot of water to boil. Add filled wontons to water in batches of 10-12 each. Allow to cook for 3-4 minutes. Remove cooked wontons to drain in a colander, then to a serving bowl. 
Make the dipping sauce
In a small bowl, whisk together soy sauce, rice vinegar, sesame oil, hot sauce, garlic, and ginger. 
To serve
Serve wontons and pour dipping sauce over top. Garnish with scallions, cilantro, more microgreens, and crispy chili oil.