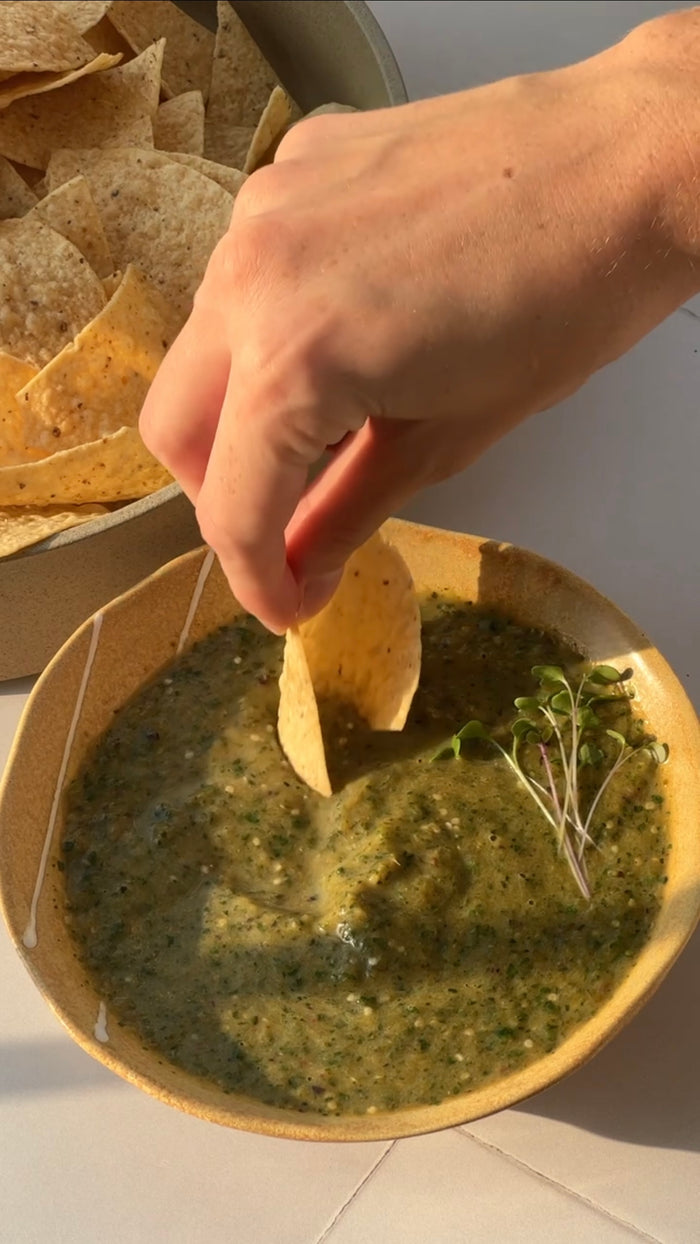 Yield: About 1 cup salsa
Time: 20 minutes
Note: Be sure to rinse the tomatillos thoroughly to remove as much of their natural stickiness as possible.
INGREDIENTS:
6 tomatillos, husked and rinsed 

1 jalapeño, seeded and roughly chopped

⅓ cup white onion, roughly chopped (from about ½ small white onion) 

1 clove garlic, peeled and smashed 

3 Tbsp avocado oil (or other neutral oil)

1 tsp salt

¾ cup medley microgreens (about ½ Fieldhouse grow tray)

2 Tbsp cilantro

2 Tbsp lime juice
INSTRUCTIONS:
Preheat the oven to 450F and line a sheet pan with parchment paper. 

Place tomatillos, jalapeño, garlic, and onion on the sheet pan and toss with 3 Tbsp avocado oil. Bake in the preheated oven for 15 minutes, or until veggies are deep golden and blackened in spots and tomatillos are blistered and partly burst. Remove from the oven and set aside to cool. 

Once cooled, add tomatillos, jalapeños, onion, and garlic to a food processor fitted with a steel blade. Pour in any juices that were left on the sheet pan. To the processor, add cilantro, medley greens, salt, and lime juice. Blend until smooth. The tomatillo seeds will still be whole and are totally safe to eat. 

Taste and adjust seasoning if needed. Pour into a serving dish and enjoy with tortilla chips or save the sauce to use on tacos, enchiladas, grain bowls, and salads.