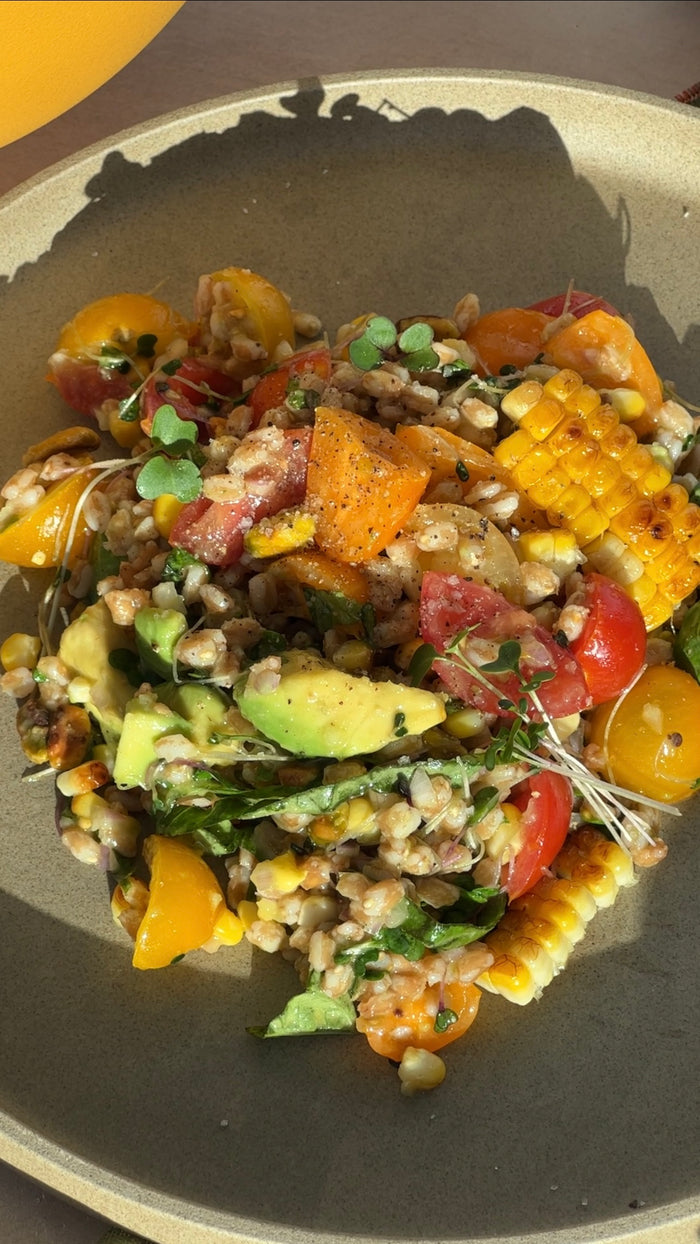 Yield: Serves 2-4
Time: 40 minutes
INGREDIENTS:
For the White Balsamic Salad Dressing
¼ cup extra virgin olive oil 

3 Tbsp white balsamic vinegar 

2 tsp dijon mustard 

1 tsp maple syrup, agave, or honey

1 tsp salt

½ tsp pepper
For the Salad
1 cup uncooked farro, cooked according to package instructions and cooled to room temperature

2 ears corn, shucked  

2 Tbsp olive oil 

2 Tbsp shallot, minced (from 1 small shallot)

1 large ripe avocado, diced 

1 ½ cups cherry tomatoes, halved or quartered  

1 ½ cups toasted pistachios

1 ½ cups medley microgreens 

2 Tbsp basil, finely chopped or julienned 

1 tsp salt

1 tsp black pepper
INSTRUCTIONS:
In a small bowl, whisk together the dressing ingredients until thoroughly combined. Set aside. 

Preheat a grill or heat a skillet to medium high heat. Brush the shucked corn with 2 Tbsp olive oil, then grill or cook for 2-3 minutes on each side, until you see some light browning. Remove from the grill or skillet and set aside to cool. Once cooled, cut the corn kernels off the cob. Set aside. 

To a large bowl, add the cooked farro, corn, minced shallots, cherry tomatoes, avocado, pistachios, medley greens, and top with basil. Season with 1 tsp salt and 1 tsp pepper. Gently toss. 

Pour in your desired amount of dressing and toss again to coat evenly. Serve cold or at room temperature.