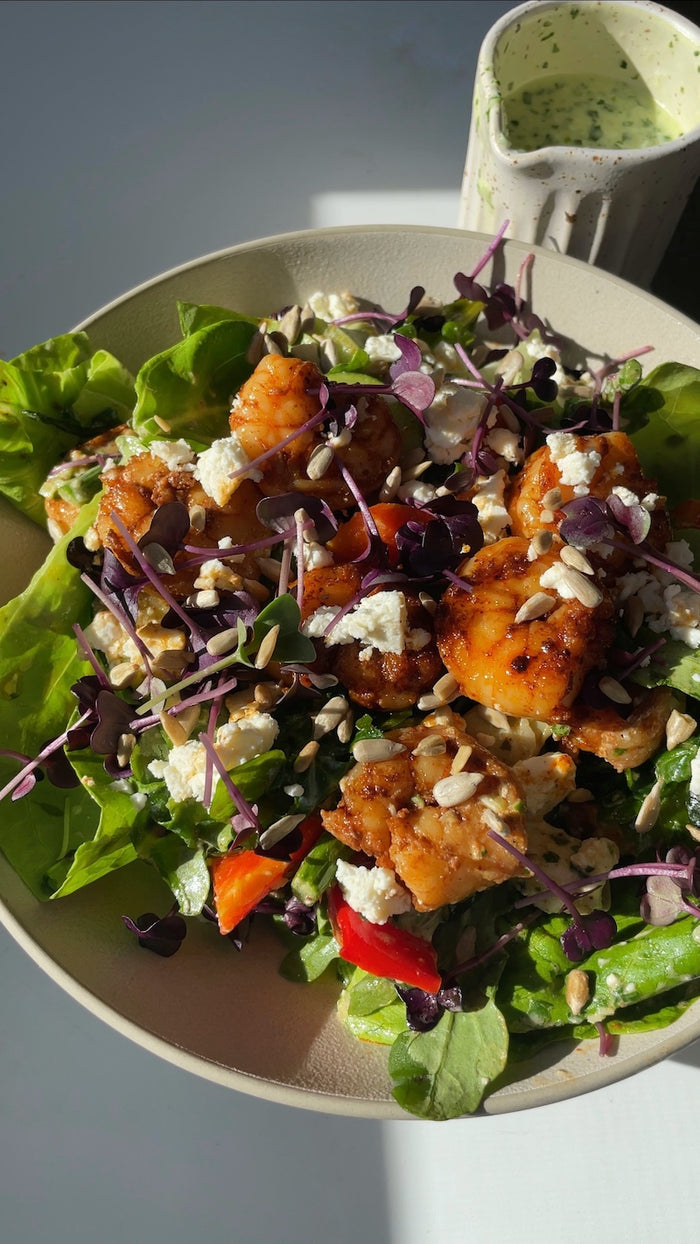 Yield: 2-4 servings
Time: 30 minutes
INGREDIENTS:
For the Dressing
2 scallions (washed & roots cut off)
½ cup fresh cilantro (loosely packed leaves & tender stems)
¼ cup fresh basil leaves
¼ cup full fat greek yogurt
2 tbsp olive oil
2 tbsp lemon juice
2 tbsp water
2 cloves garlic
½ tsp kosher salt + more to taste
For the Shrimp
1 lb shrimp, peeled & deveined with tails removed (I used size 22-25 ct)
1 tsp chili powder
¾ tsp kosher salt
½ tsp smoked paprika
¼ tsp cayenne
2 tbsp olive oil, divided
For the Veggies
½ red bell pepper, seeded & cut into 1" pieces
1 small zucchini, cut into half moons
½ bunch asparagus, ends removed and cut into 1" pieces
1 tsp kosher salt
2 tbsp olive oil
For the Salad
5 cups butter lettuce (1, 4.5oz container)
2 cups baby arugula
1 cup radish microgreens
1 cup marinated quartered artichoke hearts (1, 6.5oz container)
½ cup feta, cubed
⅓ cup roasted sunflower seeds
INSTRUCTIONS:
Make your dressing: blend all ingredients with a handheld blender until smooth. Set aside.

Cook shrimp

: Pat peeled & deveined shrimp dry with a paper towel and add to a medium mixing bowl. Sprinkle with kosher salt, chili powder, smoked paprika, and cayenne, and stir until coated. Drizzle with 1 tbsp of olive and stir again until evenly combined. Preheat a medium cast iron skillet to medium heat and add remaining 1 tbsp of olive oil. Once olive oil is shimmering and hot, add your shrimp in an even layer, making sure they are not touching. Cook for 2-3 minutes per side until shrimp are browned and tightly curled. Flip over, and cook for an additional 2-3 minutes on the other side. Leave shrimp to cook without touching /moving as this will help them brown nicely! Cook in batches as needed to ensure the pan is not overcrowded. Remove shrimp from the pan and set aside.

Cook veggies

: Preheat oven to 400F and line a large baking tray with parchment paper. Add cut vegetables to a large bowl and sprinkle with salt and olive oil. Stir to combine. Spread vegetables in an even layer on the parchment-lined baking tray. Move to the oven and bake for 20 - 25 minutes, or until veggies are cooked. Set aside.

Assemble Salad

: To a large bowl add lettuce and baby arugula. Top with roasted veggies, marinated artichoke hearts, seared shrimp, cubed feta, and roasted sunflower seeds. Drizzle with desired amount of dressing. Serve immediately and enjoy!