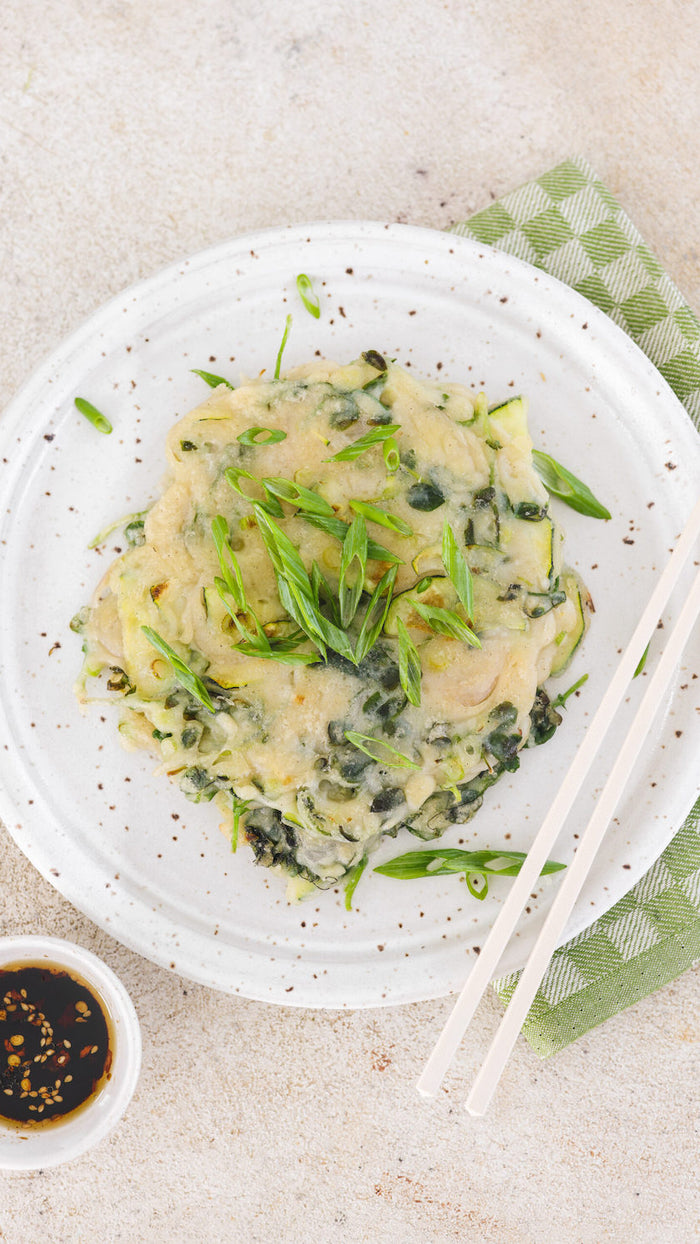 Yield: Serves 2-4
Time: 20 minutes
INGREDIENTS:
For the Pancakes
1 harvest Leath pea shoots
5 scallions, thinly sliced
2 large shallots, thinly sliced
1 large zucchini, halved and thinly sliced
1 1/4 cup flour of choice (I used a gluten free flour mix)
3 tbsp cornstarch
1/2 tsp salt
1 1/2 cup filtered water
Neutral oil
For the Dipping Sauce 
2 Tbsp tamari or soy sauce
1 tsp toasted sesame oil
1 tsp coconut sugar or other sweetener of choice
1/2 clove garlic, minced
1 tsp rice wine vinegar
1/2 tsp chili flakes (optional)
Start by preparing your batter by whisking flour, cornstarch and salt to combine. Slowly stream in water while you whisk until a batter forms.
Next, mix in pea shoots, scallions, shallots and zucchini and stir to combine. The mixture should be mostly vegetables, do your best to make sure each vegetable piece is coated.
Heat a skillet or pan on medium heat and add enough oil to coat. Once sizzling, add about 1/3 or 1/2 cup batter to the pan and use a spatula to quickly spread the batter as thin as possible. Let cook for about 3 minutes, until bubbles form on the surface and a nice golden crust has formed. Flip, and repeat on the other side. Season with salt, set aside and repeat with remaining batter.
To serve, slice into bite sized pieces or triangles, whisk together dipping sauce ingredients and enjoy!