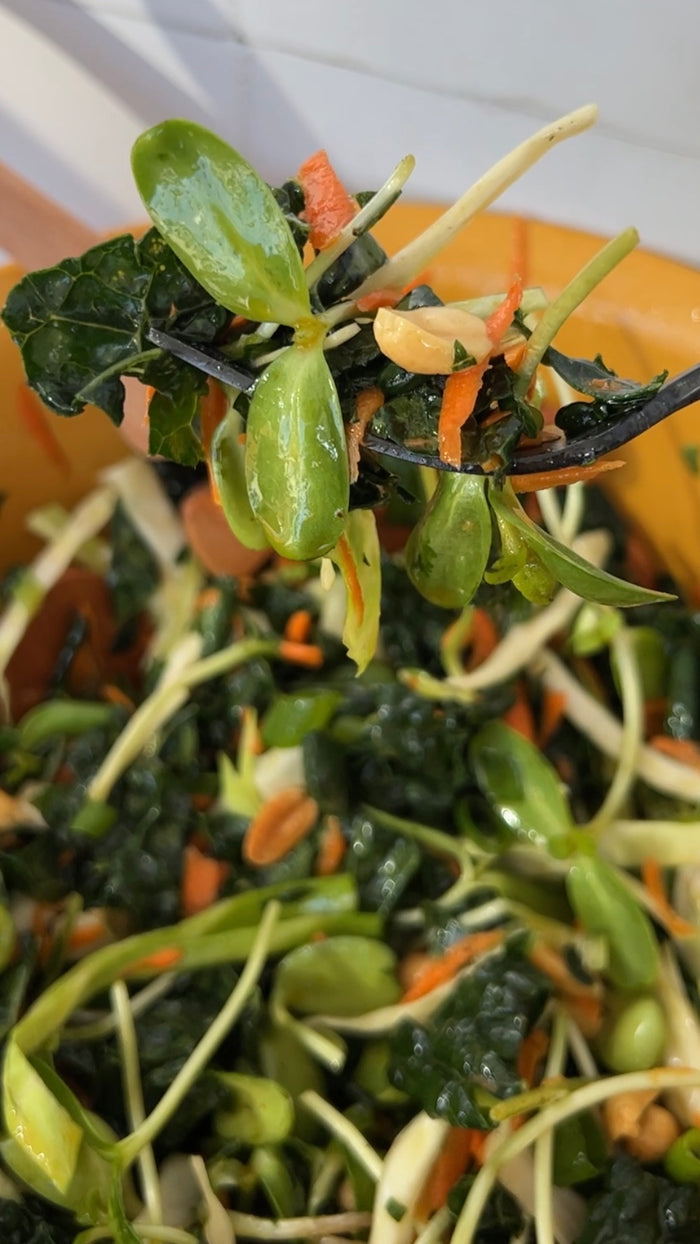 Yield: 2-4 servings
Time: 30 minutes
INGREDIENTS:
For the Dressing
¼ cup sesame oil 

2 tbsp lime juice

1 tsp maple syrup

1 tsp Dijon mustard

½ tsp tamari or soy sauce

½ tsp salt

¼ tsp pepper
For the Salad
1 bunch (about 3 cups) Lacinato/Dino kale, torn into bite sized pieces and massaged by hand (See note)

1 ½ cups green cabbage, shredded

1 cup carrots, shredded

1 cup sunflower microgreens

1 cup scallions, thinly sliced (from 5-7 scallions)

½ cup roasted peanuts

1 tsp salt

½ tsp pepper
INSTRUCTIONS:
Make the dressing: In a small bowl, whisk together the dressing ingredients until thoroughly combined. Set aside. 

To a large bowl, add the massaged kale, cabbage, carrots, sunflower greens, scallions, and peanuts. Season with salt and pepper, then toss. 

Pour in your desired amount of dressing and toss again to coat evenly.
Note: Kale is extremely fibrous and can be tough to chew so I always recommend "massaging" the kale when eating it raw. Massaging helps tenderize the leaves and makes for a much more pleasant eating experience and easier digestion! Place kale in a large salad bowl and add ½ tsp salt and a squeeze of lemon or lime. Using your (clean!) hands, massage the kale by pinching and squeezing it for about 3 minutes.  It will turn a darker green and will be visibly softened and tender.